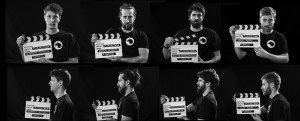 ALEXANDER CASTRILLO: As an altar boy, he learned that in show business a good lie, well told, can draw a lot of people. He likes smelling colored markers to get creative with the transport order, but when he really shines is as a lighting double during pre-production.
ANDER IRIARTE : His childhood idol was Son Goku, but when he accepted that it was impossible to do "kame hame ha", he turned all his attention to cinema. 'Matrix' was a turning point for him and since then all he does is chase the red pill. As he is dyslexic, he ate what he shouldn't and and consequently he can't stop.
AITOR BEREZIARTUA: His dream was to be a footballer and he achieved that until he woke up. As it was late, he decided to change profession and look for daytime jobs. Due to his "Oriotarra" blood, he acquired a squid boat, abandoning the project when he discovered that there aren't any in Oiartzun. As videos can be edited at night, he entered the world of film.
KOLDO GABARAIN: As a good Basque born in a farmhouse, his aim was to win a Tour de France, but when he saw that the camera operator got less tired he changed his life project. He likes analog photography and doing the opposite, which is why he puts the "SD" cards into the 35mm slit.